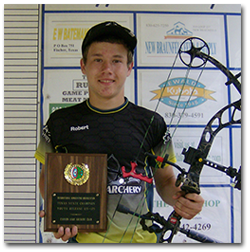 I have been PSE Archery Pro-staff for three years now, along with Trophy Ridge Archery, Bear Archery, HotShot Archery, Cajun Archery, Bowfishing Extreme, and Shakespeare fishing.

My father and I started out bow fishing here in Texas, and won Two Man team of the year for 3 consecutive years in a row.

I have 225+ records for bow fishing in Texas, 6 state records and 13 junior state records, along with 2 world records.

This is my second year of 3-D archery and so far every shoot I have placed.